Sofia Skleida was born in Athens (Greece). She studied Filology at the National and Kapodistrian University of Athens where she obtained her BA, MA in Pedagogy and PhD in Comparative Pedagogy. She is also a postdoctoral candidate. She was awarded for her participation in poetry and literary contests in Greece and abroad. Her poems have been translated into Italian, English, Spanish, Albanian and Romanian.Ηas published a total of 10 books with literary and scientific content.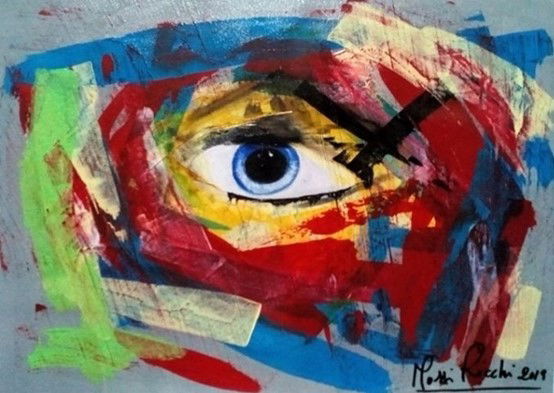 Work by Massimo Ricchiuto Director Abstract Art Department of International Art Institute Europe - Observing art – 2019
"Flower honey flows in your crossroads like the poppies that emerge the purple color in the meadow, as an echo of Vivaldi's opera"
A brief Critical Analysis of the Painting
Our artist in an abstract and instinctive way tries to express his feelings and experiences using images, symbols and the sensual combination of colors. In this painting, artistic creativity reflects the laws of the universe, which are hidden behind external, superficial phenomena of the reality. These motifs, perfectly mastered by the artist, were expressed through the analogy of abstract forms (color spots, lines, volumes, geometric shapes). One of the deeper goals of our painter is to achieve harmonization, using the image of certain combinations of colors and geometric shapes, making the thinker feel full, complete, reborn mentally and spiritually.
"Summer glories"
I am standing in the depth of my memories
I follow their footprints step by step
in the hot summer sand
in the sacred doors of the soul
on the vertical axis of the eternity
The celestial dome reflects
the harmony of the universe
and the submarine effervescence is extinguished
from the creative coexistence
of the abyss
Finally summer!
Hearts are rejoicing...
Wise words are waiting
the oestrus of the moment
To write their story And the sunsets of the sun
eagerly plow the plains of love …